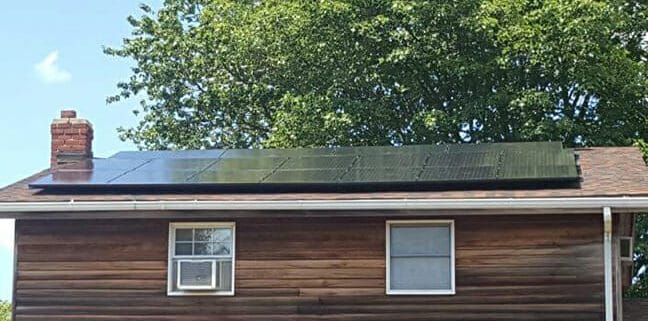 Staten Island Solar – Is it Right for You?
Solar is one of the best ways to enjoy reliable and more affordable electricity at your home or commercial property. New York Power Solutions is one of the most trusted solar roofing companies in Staten Island.
Solar is a great option if you have the right roof for it. Learn about the advantages of Staten Island solar and get your free estimate today. We are the team that New Yorkers call when they want only the best of solar roofing companies in Staten Island.
Why You Should Switch to Staten Island Solar
You've probably heard a lot about solar in recent years. That it's better for the environment, that it's cheaper than electricity from the grid, and that it's relatively easy to have it installed… all these points are true!
There are some important benefits that you'll gain when switching to solar with specialized roofing companies in Staten Island.
Solar is more affordable than energy from the grid and it will generate a return over time if the system is correctly designed and integrated.
New York's grid is notoriously unreliable. Your Staten Island solar will work whenever the sun is shining, and with battery backup, you'll have clean energy even when the sun goes down.
Solar panels are carbon zero. The energy they produce over 25 years easily offsets the carbon cost of producing and transporting them to your home.
Solar production works in any weather, and panels can resist rain, snow, strong winds, and even hail.
You can use your solar battery during a blackout or an emergency, with no need to use a gas-powered generator.
Any home or business that gets sunshine on the roof can potentially use solar panels. The key is to determine whether the investment is worth it. That's why we provide a detailed consultation with cost/benefit analysis for every customer. You won't guess when installing solar with New York Power Solutions.
We provide the information. You make the choice!
It's More Affordable Than You Think
Whatever you think you would pay for solar, the reality is probably less. Solar was once prohibitively expensive, especially when you wanted Staten Island solar to power your entire home or business. Solar panels are more affordable than ever when considering their efficiency and durability. You can now generate more electricity with fewer panels. Solar doesn't just supplement your electricity from the grid. It can eliminate your need to take electricity from the grid on most days.
This results in a lower electric bill from your utility provider. Some of our customers pay nothing more than a hookup charge during the highest solar-producing months of the year. With an integrated solar battery, you can even store electricity during the day and use it in the evenings.
Combined with net metering, your bill will either be drastically reduced or eliminated. If you export more energy to the grid than you consume in a billing year, your utility company will pay you the difference at a fair market rate. Your Staten Island solar installation can literally pay for itself.
Incentives Make Staten Island Solar More Accessible for All
It's not just the efficiency of solar that makes it affordable. There is a range of generous tax benefits available to homes and businesses. In New York, NYSERDA provides a rebate directly to the installer based on the size of the system and your current utility provider. This rebate is taken off the top of the installation cost, reducing what you owe. Personal income tax and business tax rebates are also available depending on your scenario.
As one of the leading solar roofing companies in Staten Island, we make it easy to take advantage of all the rebates and credits available to you. Policies can change quickly but we have an entire team dedicated to keeping up with all the rules and regulations of claiming solar incentives. We'll let you know how much you can expect to save with incentives and apply expected tax rebates directly to your financing. The incentives will fund an initial loan with no money down. It is interest-free and paid off when you receive your rebates. The remainder of your installation can be paid off over a term of your choosing at a competitive fixed rate.
We are partnered with the best finance companies in New York to ensure that you get fair and affordable financing for solar.
Our average customer can cover more than half the total cost of installation using rebates and incentive programs.
We aren't exaggerating when we say that Staten Island solar is more affordable than ever. The incentives won't last forever, especially with so many New Yorkers transitioning to solar power. Now is the time to make one of the smartest investments of your lifetime.
Warranty Coverage and Ongoing Support from New York Power Solutions
Our Staten Island solar customers get the best support from consultation and installation, right through the lifetime of their solar systems.
Our 25-Year Warranty ensures your peace of mind. In the rare case that your solar panels or other components fail prematurely, our Staten Island solar experts are right around the corner and ready to get everything back up and running again.
Our warranty doesn't just inspire confidence. It ensures that you get a great return on your investment. The average New York Power Solutions customer will generate a return of 15% to 25% from a solar installation. Solar isn't an expense. It's a wise investment that will save you money over time while also reducing the carbon footprint of your home or business.
A Leader in Solar Roofing Companies in Staten Island
Most roofing companies in Staten Island aren't ready to install solar. New York Power Solutions is.
Solar roofing companies in Staten Island have the roofing, construction, and electrical system knowledge to provide reliable solar at a competitive cost. Locals trust us more than any of the other roofing companies in Staten Island. We have given more than 5,000 homes and businesses access to clean and abundant energy.
You could be next. Want to learn if Staten Island solar would work at your property? Get your ballpark estimate online today or contact us to begin with your detailed solar consultation.
https://ee4ih8v4gek.exactdn.com/wp-content/uploads/2022/02/solar-panel-company-staten-island-ny.jpeg?lossy=1&ssl=1
389
648
admin
https://ee4ih8v4gek.exactdn.com/wp-content/uploads/2021/10/logo-ny.png
admin
2022-01-28 10:57:49
2022-02-07 10:05:54
Staten Island Solar – Is it Right for You?